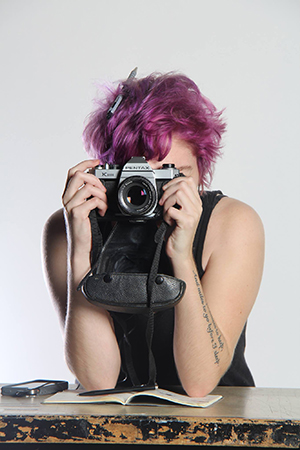 Born and raised in Cobourg, Ontario, Lana Missen is a Toronto based visual artist working with photography to explore themes of the body, identity, and female representation. Through portraiture, she aims to create visibility and a space to share her own and others' stories to a wider audience. A strong believer in the importance of collaboration and community, Missen's practice is based on engaging with individuals and her viewers.
Her current body of work "That F Word" was shown at OCAD University's 100th Graduate Exhibition Spring 2015, and was part of the 'Contact' photo festival in Toronto in May. Her first solo show of "That F Word" was held at OISE through partnership with WIA projects in June 2015.
She has also displayed works in the juried CLIC Eastern Ontario Photo Show, where she won first place in 2012. She was part of the "Aperture" show at Moniker Gallery in downtown Toronto in 2014. She has an interest in art education and, outside of her fine art practice; Lana enjoys documenting performances of live theatre, dancers, and musicians.
Lana Missen graduated in 2015 from OCAD University with a Bachelor of Fine Arts with distinction in Photography, and a minor in English.